Developing Teen Leadership: A Practical Guide for Youth Group Advisors, Teachers and Parents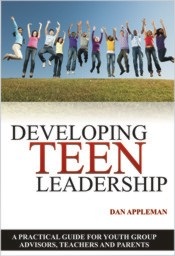 In addition to my technical career, I've spent over 20 years volunteering as a youth group advisor with a group that emphasizes youth leadership.
I really believe that in today's world, academic success is not enough to achieve success in a career or in life. It takes more. Call them social skills or communication skills, or initiative or the ability to plan and execute a task… All of them fall into the category of leadership skills.
Over the years I've learned a thing or two about how to teach these skills, and have just published a new book on the subject. Like my technical books, it is a practical "how to" guide – not an abstract theoretical tome. Unlike my more technical books, it's an easy read and, I hope, entertaining as well as useful.
Whether you are a coach, scoutmaster or youth group advisor, a teacher, or even a parent of a teen – I'm confident that this book will offer both insight and practical strategies to help you become more effective at teaching leadership skills, and better able to help teens prepare for an increasingly complex future.
You can read more about it at TeenLeadershipBook.com.